Zee is a character of HTFF.
Bio
Zee is a maroon wolf and the member of The Journalist. He also Irin 's main partner but Amp took over his job temporarily because he and Dexter not arrive Happy Tree Town yet.
He mainly have rivalry towards The Clams, same to Amp and Dexter because of their 'cruel' habit. Unlike Amp, Zee never talk to Irin about her clams because he really hates about it.
He is a bad-tempered character, he will easily get angry when something went wrong. Grumpy, stubborn and bossy character, he feel himself that he is the leader of the team but Irin is actually the real leader. The Clams, Amp and Dexter are all don't see Zee as a good leader. Amp also always having a fight with him.
At the good side, he will helps his team when something gone wrong, angry in the same time. He sometimes even cares about The Clams when they try to protect their owner from dangers.
He have his own trademark, throwing some papers when he gone angry. He will find a paper and throws it to proves that he is angry. He might be a not really good character but he does not lazy to do his job.
The reason both Zee and Dexter not arrive to the town is they're actually don't want to share a sit with The Clams in Amp's car. They'll be arrive to the town soon after Amp bring his members back to the team.
Out of all 4 members in the team(if The Clams excluded), he surprisingly higher survival rate than Amp's but lower than Irin. His anger, bossy and stubborn personality actually can save him but also lead other's death. Similar to Amp, he never get killed by The Clams directly but will get a bad injuries.
Episodes
Not for Profit - Locked for Episodes Only


Only the creator(and few allowed users) is allowed to use this character in episodes.
If you wish to use this character, please ask permission first, don't worry, just message me here Message Wall:BlueTide, I don't eat people.

Images are allowed freely(please be serious), but not episodes.
Starring
Featuring
Appearance
Fates
Death
Have a Bite Night - Vaporized by a gas tank's explosion.
From Anger to Zee - Electrocuted and then exploded.
Caught on Camera - Falls and splattered into the ground.
A Storm in a Teacup - Vaporized by Amp's electrocution.
Two Gals, One Sweetheart - Falls into a hole.
My Dear Pawson - Ran over via horses. (only in a story)
Electric Heart - Electrocuted off-screen.
Can't Take the Pressure - Melted to death.
Sit Still, Feel Pity - Eaten by piranhas.
Wire Are You Doing - Ran over by a car.
Burn Out - Burned to death.
Dine-osaur Out - Dies in an explosion.
Bitter Get Moving - Crushed into the pole.
Shell of a Woman - Scalded by hot cheese.
Jolt to a Top - Splattered into the ground.
Injuries
Duck It Up! - His legs were cut off by Crazy.
Bitter Get Moving - Bitten by The Clams, having his eyes pierced by glass shards.
Tromp the Vote - Electrically fused into a mutant with Irin, Dexter and Amp.
Jolt to a Top - Gain some bruises during his fight with Amp.
Kill count
Gallery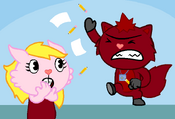 Click here to view this page's gallery.
Trivia
Zee is one of the characters who make a return from the owner's old comic. The others are Irin, The Clams, Amp, Dexter, Emmy, Quartz, Snapshot, Emojie, Walter, Oscar, Angie, Zet, Jake, Jet, Nimy, Rafie, Tide, Gash, Ratchet, Hal, Morton and Mix. He was a squid in that old comic.
He sometimes always went to The Anger Management Center to control his anger.
Both Zee and Dexter make their debut and appearance in "Hunter Hunted", when Amp finally brings them to the town at the end of the episode.
After the event in Caught on Camera, Zee is now having fear of height or Acrophobia.